Following the sale by the Blackburn family mooted in the Gazette last year, the Alex is now advertising for hospitality staff ahead of a multi-million dollar renovation.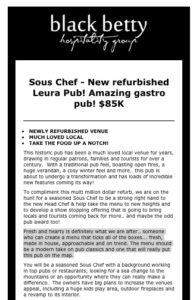 The SEEK ad for a Sous Chef is seeking somebody able to produce a new menu. "Fresh and hearty is definitely what we are after.. someone who can create a menu that ticks all of the boxes… fresh, made in house, approachable and on trend. The menu should be a modern take on pub classics and one that will really put this pub on the map."
Other details likely to interest patrons are plans for a kids play area, outdoor fireplaces and a complete interior refurbishment.