What with a Woolworths, Dan Murphy's and a Woolworths Petrol Station in development, Upper Mountains residents have enough to think about when it comes to new commercial ventures. A sign promising McDonalds is coming soon set up in the vacant field next to the Leura-GWH roundabout was certain to get locals to react.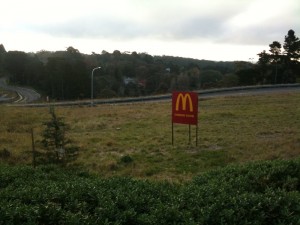 It spurred a Facebook group in opposition and gathered many a second look, but by Sunday it was gone.
Our own thoughts are the 1st of May might have been a month to late for the organised pranksters.